NickStick Design
NickStick Design is a small scale mechatronics design studio based in The Netherlands. Over the years we designed and manufactured a variety of (partly open source) products. Earlier projects include SwarmDrive , RF Power Snitch and ConsoleCast . Sizable7 is, as other creations, born out of necessity and lack of suitable, readily available solutions.

Sizable7
We needed a large 7-segment display which can be used without the need for a separate enclosure. It should look good on its own and it had to be modular (expandable use cases). Also we were looking for multi-color (RGB) and if possible addressable pixel displays. Although there are several matrix displays available we needed a more conventional digit display unit. It turned out that there were not many suitable candidates available and so we started the design of Sizable7.
Use cases
We soon recognized that there are still many use cases for conventional digit displays. Of course a clock (with Sizable7 a huge clock) comes to mind first. But think about scoreboards or timing displays for sporting events or these large price boards you see at gas stations. Some production facilities or other workplaces keep track of numbers or counters that should be visible at distance.
We realised that Sizable7 could be a perfect solution for many of these number or counter applications.
For technical info and how to use Sizable7 modules, please see Usage
Specifications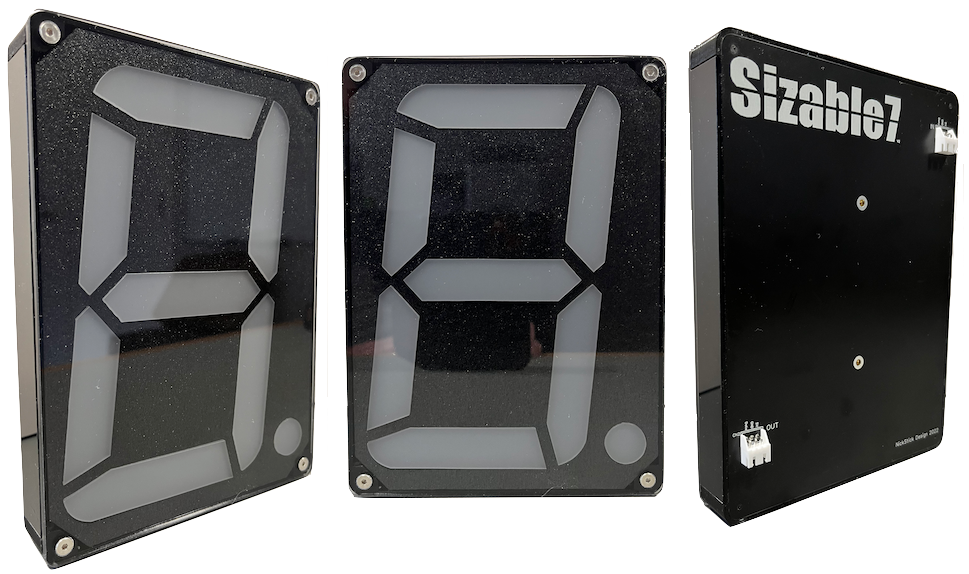 | Specifications | |
| --- | --- |
| Dimensions (height x width x depth) | 185mm x 135mm x 24mm / 7.3" x 5.3" x 0.9" |
| Weight | 260g |
| Enclosure main build material | Acrylic |
| Diffuser material | PyraLed® |
| LED type | WS2812B addressable LED |
| Connector type | 2 x XH 2.54MM 3P (in and out) |
| Mounting | 2 x M3 screw hole |
| Power | 5V (current range regular use ~50-750 mA)* |
| IP rating | None** |
* current range, depending on color, brightness and number of ON leds, is around 50-750mA under normal conditions and can be controlled by code (FastLED library has power control functionality)

** the enclosure is not water proof. The device should be used in-doors or placed inside a container when used in humid or dusty environments.
---